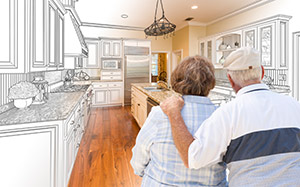 Joint Center for Housing Studies at Harvard University estimates that in spite of the housing downturn during the recession, spending on home improvements increased by about 9 percent during 2012. This includes a trend by older home owners to modify their homes to prepare for future needs.
Projects to improve energy efficiency and the use of environmentally sustainable products show an increase, thanks in part to the availability of federally backed grants and loans for home owners and buyers that follow specific guidelines in energy efficiency. Such improvements to a typical pre-1970 home resulted in 30-35 percent less energy used in 2009 than a similar home used in 1980.
Research also suggests that eliminating the use of toxic materials in home construction and renovation will decrease medical costs due to reducing air pollutants and other hazards inside the home.
Baby boomers dominated the housing market since the late 1960s and 1970s until younger homeowners entered during the more recent housing boom in record numbers Older homeowners lost a smaller share of home equity during the downturn because they delayed selling until housing prices began to stabilize, while others were unable to sell due to the inability of buyers to sell their own home or get financing.
Because the majority of older homeowners prefer to stay in their present homes as they age, an opportunity exists for the remodeling industry to accommodate their changing needs safety and mobility as described in earlier discussions