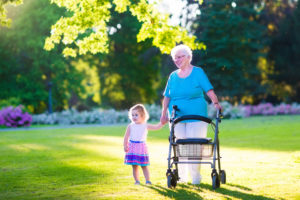 Prescription medications may affect balance, and arthritic hips and knees might lead to a fall. Using assistive products is a preventative measure against falls. That enables greater independence for elders and peace of mind for adult children. Many elders who view assistive devices as signs of their disabilities will refuse hem until an accident occurs.
No-wheel, 2-wheel rolling, or 4-wheel walkers support balance problems to varying degrees. If stability while moving is a concern, a standard walker without wheels requires some upper body strength to lift when moving. A four-wheel walker, with brakes, a seat and basket allows a user to push when moving, providing greater freedom of movement outdoors, and most of them fold for convenience.
Assisted living communities require residents to wear a medical alert device, typically in the form of a necklace, bracelet or a watch, known as an emergency response system (PERS). GPS products are available to anyone, and they provide mobile alerts to family members or caregivers for a monthly fee.
Assistive technology that monitors the movement of elders within their home is likely to be a standard part of care in future years. There are obvious benefits to knowing that a parent living alone is eating properly and taking prescribed medications. With these systems, daily patterns of movement are noted and an alert is sent to various recipients if changes are detected
Many elders are reluctant to accept wireless sensors, even without cameras, that track their movement from the time they wake in the morning until they go to sleep at night. But incoming years, innovative technology will likely reach large numbers of boomers who are living longer than at any time in history. Over time, assistive technology will gain greater acceptance for a generation of smaller families who have fewer family members available as caregivers