Positive Living Solutions Helps to Uncover Hidden Dangers in The Home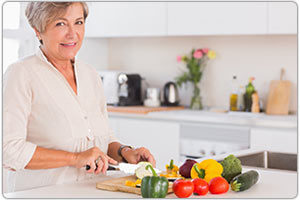 Many assessments will evaluate a home's safety based only on the existence of certain generic attributes. However, understanding how the specific conditions in the home interact with the evolving conditions and behaviors of its occupant(s) is a more sophisticated and customized way to do home safety assessments.
At PLS, we focus on how people interact with their homes. Our objective is to advise aging individuals, or any older adult planning or considering renovating a home, about home safety, taking specific health, age, and environmental factors into account.
The earlier in life an assessment is performed, the more inexpensive initial modifications will be. Such an assessment provides the knowledge of modifications that should be considered over time with some particularly relevant later in life. When an assessment is for a loved one advancing in years, existing health plays a big part in an assessment.
Preventing falls in familiar surroundings is not just about adding grab bars, removing scatter rugs, or installing a walk-in barrier free shower, although those can be important first steps. Our vision, hearing, arthritis and other conditions that impair our mobility are continuously changing, and those changes create new and evolving unsafe conditions in our homes that only a safety assessment can detect.
Adapting a home and/or converting it in order to make performing tasks easier, reduces accidents and increases safety. Recommendations are made to maintain independence (not to take it away), and that creates a greater sense of security for you and your family at all stages of living.
After the initial adaptations recommended by a home safety assessment are made, it's important that as the normal aging process continues and as health conditions and behaviors evolve, safety assessments be reviewed and updated as needed.
As appropriate, we will recommend the services of occupational or physical therapists to evaluate specific needs that may include, for example, the use of a cane or a walker for support, or an assistive device for vision or hearing loss.